News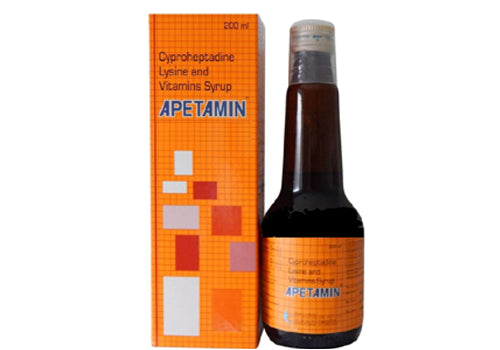 How Apetamin Vitamin Help Women Gain Weight
If you want to gain some weight, there is a high chance that you have heard of Apetamin, a type of weight gain syrup. This has created a buzz in social media with a lot of women claiming to notice a rapid weight gain in just a matter of weeks of using the syrup. Some of these users even posted their before and after photos.
For ladies who find it hard to gain weight despite eating a lot, it may sound promising. However, is Apetamin safe for weight gain as consumers describe? How does it work to help you gain weight?
What is Apetamin Vitamin Syrup?
One of the primary ingredients of Cyproheptadine Lysine or Apetamin is Cyproheptadine. It is a component that can be found in many other medications such as those used for headaches and allergies, and here, it is added to weight gain syrup.
Basically, consuming Apetamin results to an increase in appetite. The ingredient found in the syrup doesn't just boost your appetite as this also inhibits the histamine processes. Histamines often affect your metabolism through drowsiness that can cause other functions of your body, such as your metabolic rate, to slow down for a short time.
Apetamin itself, however, hasn't been found to completely slow down your metabolism rate. The ingredient is supposed to let your body keep the additional muscle or fat gained through exercise and diet.
What to Expect When You Use Apetamin
If you want to take Apetamin for weight gain, intense drowsiness is reported to be the most usual side effect. This is the reason why there are women who only take the syrup at nighttime so that its effects won't interfere with their daytime activities like work, driving, and others as it can turn into a hazard.
Many women who consume the syrup have noticed weight gain during the first
week of using and earned more than 10 pounds after a month. But, these extra pounds gained might not really go to places where you wish them to. There are women who stated that they only gained weight in their stomach area or faces so they were left with no choice but to stop taking the syrup. To avoid this, you have to exercise regularly to help shape up the area where the additional weigh goes.
The Bottom Line
It is always a must to consult with a doctor first before you start using any form of medication. This is even more so in the case of something like Apetamin that can essentially alter the normal functions of your body and cause you to experience rapid weight gain.
Quick weight loss or weight gain are both unhealthy for your body so you have to check with your doctor first to know if your health condition is in right state to start using the syrup. Apetamin shouldn't be taken during pregnancy, with alcohol, or other medications.
If you choose to take Apetamin, ensure that you get it from a peer-reviewed and legitimate vendor or source to stay on the safe side.
Read more →
---
Welcome to Yefense.com, a women's nutritional company devoted to producing products of the highest quality to aid women in their daily lives.
Aalou Health International is the proud developers of the health supplement Yefense™.
Women's well-being is at the heart of Aalou Health International. We provide important products and information that address women's needs.
The brains behind the company and products are women who love the idea of natural and organic foods, herbs, and supplements. Our passion for preventative health care is demonstrated through our quality of products.
As long time users, researchers, and advocates of natural products; our development of a powerful combination of "friendly" bacteria changed our lives in 2005.
After researching and surveying many women who had concerns with their woman's body with "down-there" problems, our passion allowed us to share the formula that could change every woman's life. Aalou created and branded Yefense™ in 2006 and built a dedicated, healthy customer base. Yefense's customers keep returning for this little pill that does so much for a woman's body.
Within a few short years, the success of Yefense® prompted us to expand our efforts to educate women on their health. Aalou believes in taking our health into our own hands through educating ourselves and incorporating preventative, natural methods into our "health-style." And doing so alleviates unnecessary doctor visits, medical bills, and prescriptions drugs, which may harm other systems of the body.
Read more →
---
---
---